Los números romanos / Roman numerals
Los números romanos
El antiguo sistema imperial que sigue entre nosotros

The ancient imperial system that continues among us
Los números romanos forman parte de un importante sistema de numeración aún vigente hasta el día de hoy, este sistema se utiliza, por ejemplo, para datar fechas importantes, para la enumeración de capítulos de libros y en algunos relojes del tipo analógico. Los números romanos, como su nombre lo indica, fueron creado en la época del Imperio Romano, este sistema nace como una adaptación del sistema numérico etrusco, pero adaptado al alfabeto latino. A diferencia del sistema de numeración arábigo, que es el más extendido en la actualidad por la parte occidental del mundo, los números romanos
carecen del cero
(SIGNIFICADO DE LOS NÚMEROS, s.f.), ya que este sistema es del tipo
aditivo
(CurioSfera.com, s.f.) y
no posicional
como el arábigo (Blanca espada, 2018).
Roman numerals are part of an important numbering system still in effect until today, this system is used, for example, to date important dates, for the enumeration of chapters of books and in some watches of the analog type.
The Roman numerals, as its name implies, were created in the Roman Empire era, this system was born as an adaptation of the Etruscan numerical system, but adapted to the Latin alphabet.
Unlike the Arabic numeral system, which is currently the most widespread in the western part of the world, Roman numerals lack zero (MEANING OF NUMBERS, n.d.), since this system is of the additive type (CurioSfera.com
, n.d.) and not positional like the Arabic (Blanca espada, 2018).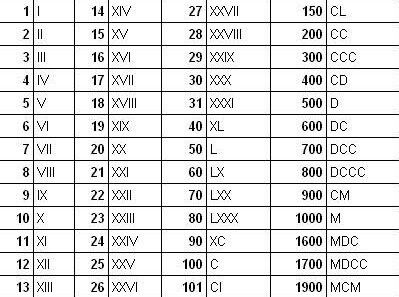 Referencias / References:
Cómo citar este artículo:
How to cite this article: